APARTMENT SEARCH
IN GERMANY
For
-Employees and Freelancers-
Renting in Germany can be an obstacle when it comes to working in the country, for a professional change due to the difficulty of relocating or even missing out on job opportunities.
Have you found a job in Germany and moving soon to the country, however you still don't have a place to live? Searching for an apartment can become a complicated and time consuming task.
At Bramex, we help you searching for accommodation in Germany. Below, we tell you how.
One of the initial difficulties a person encounters when moving to Germany is finding accommodation. This holds true even if one already resides in the country and moving to a different region. Depending on the area you're relocating to, renting a flat may take longer than expected. The high demand for housing results in long applicants lists while landlords' requirements make it additionally challenging to get access to a property.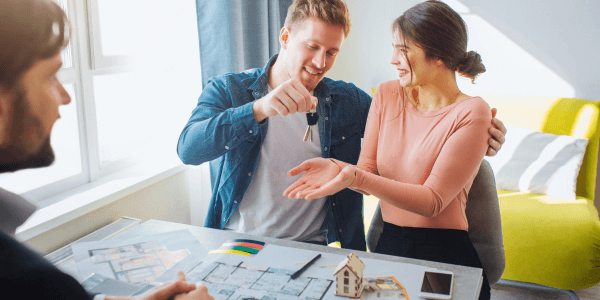 The majority of landlords require certain kind of guarantees before deciding among the many applications they receive for their property. Having the support of Bramex can help you to find a flat more easily.
Additionally, we have an extensive database of clients that are moving constantly and leaving to another place and looking for someone to rent the flat.
We Help You Rent an Apartment in Germany
We have agreements with various landlords, making the search for rental apartments in Germany easier.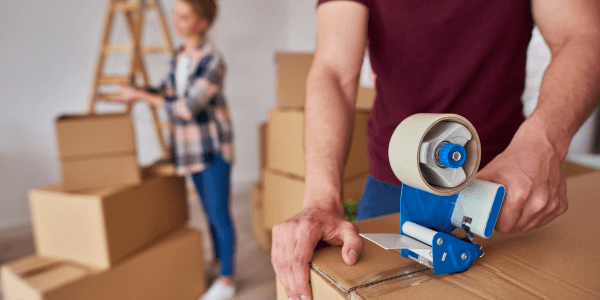 Furthermore, for freelancers and employees in the IT, engineering, architecture, and technical professions, we currently possess a database that informs us about available flats. We also work to help connect individuals in these fields to establish connections.
Guarantees for Renting an Apartment in Germany
There are applications and websites where apartments and houses for rent in Germany are advertised. However, landlords' requirements tend to be high as they seek guarantees. Some conditions are crucial when deciding on an application:
Stable employment
Financial solvency
References in Germany
Language can be another difficulty when renting an apartment in Germany since contacting or understanding the landlord can be more challenging. Additionally, unfamiliarity with the German system can result in your rental application going unnoticed by the landlord or encountering difficulties in contacting them.
In this sense, Bramex will help you to carry out the necessary steps , contact the landlord or inform you of the availability of flats to be able to make the request.
Without a doubt, this can be a fundamental, distinguishing advantage compared to other applications. So why spend your time searching for an apartment in Germany or resolving doubts about German bureaucracy and the numerous requirements and conditions for renting a place to live? We accompany you throughout the entire process, speaking with real estate agencies or landlords, and facilitating the necessary procedures and paperwork.
Our services cover the entire country, enabling us to help you find a flat in the area where you will be working or relocating.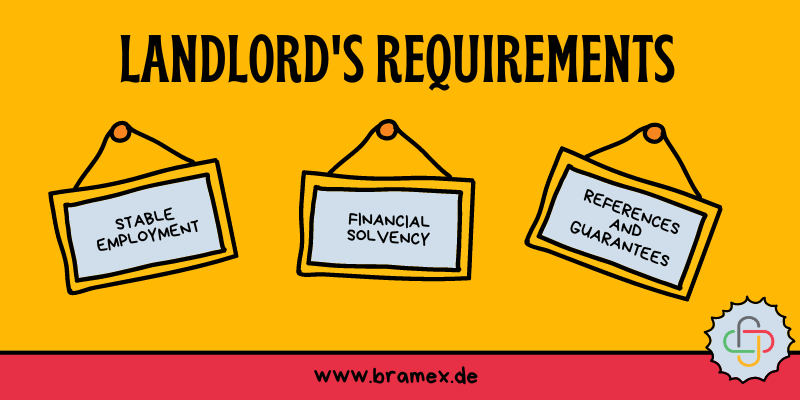 Our service fee for apartment search
FULL APARTMENT RENTAL SEARCH
DOCUMENTATION MANAGEMENT FOR THE RENTAL PROCESS
FULL APARTMENT RENTAL SEARCH
Our comprehensive service of helping you to find an apartment in Germany costs €200 + VAT.
The fee will be charged only when the rental contract is signed with the real estate agency. landlord.
What is included in the €200 + VAT payment:
We analyze your request.
We send you rental estimates for available apartments.
We contact the real estate agent on your behalf.
We talk with the real estate agent on your behalf.
We propose a date to see the apartment.
We provide support until the rental contract is signed.
DOCUMENTATION MANAGEMENT FOR THE RENTAL PROCESS
How Can I Search for an Apartment to Rent in Germany?
Please fill out the form below. This will enter you into our database, allowing us to work with the different offers and requirements set by landlords. We will review your request and get in touch with you to assist you in your apartment search and rental procedures.
(*) Payment for the service will be made only upon acceptance and signing of the rental contract.
Conditions of the Rental Search Service in Germany:
Bramex offers the possibility of searching for rental housing in Germany for foreigners, with a one-time fee payable at the time of contract signing with the landlord.
Priority will be given to individuals who have a job or a work contract (a requirement set by landlords) and stable income.
Bramex is not the ultimate landlord; we act as intermediaries between landlords and tenants.
The rental agreement will be directly signed with the landlord. Bramex does not establish any contractual relationship with the client.
Entering the database in no way implies an obligation on the part of Bramex to secure a rental within the timeframe or month specified by the client.
The service is always subject to market conditions, the availability of apartments, and the client meeting the requirements set by the landlord.
Requests will be considered on a first-come, first-served basis.
Bramex reserves the right to reject applications that do not meet the parameters established by landlords.
Do you need health insurance in Germany?
Use our insurance finder. We assist you in managing your insurances in Germany.